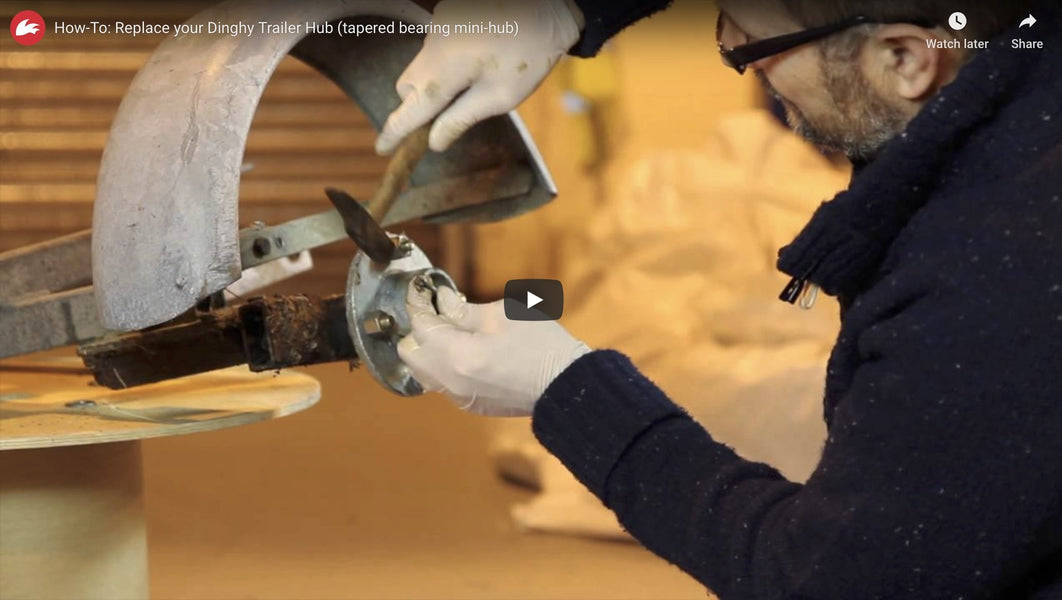 Boat Maintenance Tips
#BoatPrep101 - Winter Maintenance: Trailing Safety
TRAILING SAFETY ESSENTIALS:


With - 
VIDEO: How-To: Replace your Dinghy Trailer Hub

Advice on Tie Down Straps

Links to Hubs, bearings & wheels

Trailer Lighting Boards
When the trailer wheel on my new 4000 seized just 3 miles after collection, I can only assume that the hubs may have missed an annual service or two. Once the wheel bearings have been damaged, you might think you have an expensive and difficult challenge to change them, but you'd be wrong! You don't even need to attempt the slightly stressful task of servicing/replacing the bearings and shims, instead you can purchase a complete 4" PCD replacement hub including 4 studs and nuts, for about the same cost as a set of cone bearings and shims. It really is a no brainer and you can watch my video showing how simple the process can be.  NOTE- If your hub looks different to the one shown in the video, you might want to try indespension. 
The one tricky part with any cone wheel bearing is getting the tension in the castle nut correct. Too tight and the bearing binds, too loose and your grease will quickly come out of the inner bearing and you will also notice lots of vibration. I have trawled the internet for a good measure of how much tension we should use in our castle nut and to be frank they all seem to gloss over this vital point. So it was time to ask a Dad – my Dad actually. There are not many more practical people I know than my Father. He basically put me at my ease and said, "tighten the castle nut until it starts to bind and then come back one flat." Locating the split pin can be awkward as it has one position. He added, "check the run of the wheel and if it is still binding, come back another flat. If it's running smoothly then don't".
I think it's always good to re-check the bearings after they have done a few miles. Thankfully most of us don't put our trailers into salt water, so we shouldn't have to do this job annually. We should however, grease our hubs at least once a year.  I have just recently done that - and its amazing how much gunk comes out when you do. 

NB. Whenever I have travelled long distances - especially abroad - I have taken a complete spare hub complete with studs and nuts along with my spare wheel. I must have another look at my grease gun and check if it's both loaded and in my car. There's little point in fitting a new hub when you don't have any grease.
Tie-down Straps
When was the last time you checked over your boat straps? These are the things that are going to ensure your boat makes it home. After leaving an RS300 with the team from Dinghy Sailing Magazine to bring home after a test sail, I was later called to be told that they had lost it on the Motorway. They had tied the boat to the trolley, not to the trailer. I can't stress enough that you should tie your boat to the trailer that's towing it – not just to the trolley it sits on. Trailer to Trolley lynch pins are not the one thing you should rely on to bring your precious boat home. Boat straps can be things of danger to a dinghy. The ratchet type require an element of self control to ensure you are not splitting gelcoat as you are more than capable of crushing the boat. I was always a fan of them despite these potential drawbacks. However since using the more simple aluminium cam type on a 25mm polypropylene webbing, I found it easy to tension the straps to the safe limit. The polypropylene is shock absorbent and takes up the excess tension. The 2:1 style tensioning gives you a good feel of the tension you are putting into the strap. This time of year we should check over our straps and the padding we use to protect the boat. Perhaps burn off that annoying fraying edge that makes it hard to put the strap into the cam, or even relegate a strap to holding a bike up in the garage and buy some replacements.  Its also my ideal time to improve my tie down systems for a quick packaway at the end of the event.  Its amazing what you can do with a simple old style laser kicker jammer and a hook and some blocks.  
Wheels & Tyres
After checking the tyres on the trailer I can remember just how imperative it is to carry a spare wheel. They can sometimes be a pain to remember so a good idea is to use a trailer mounted spare wheel carrier.
I remember coming home from the Streaker Nationals. I had delivered a new boat with a double trailer at the event and brought back my Championships winning boat on an old single road trailer. My mistake was only carrying the 10" spare wheel for the double and not the 8" spare for the single trailer. When I got a flat on the A1 on a bank holiday Monday, there was a moment when I felt confident - after all I had AA European Cover with Trailer Cover. However, they were not able to help since my trailer cover only covered me if my car had broken down, not the other way around. It was only the kindness of a friendly passing Streaker sailor who saved me from my predicament by lending me his precious spare. As well as feeling pretty stupid, I also felt guilty that I had relied upon someone else's careful preparation to save my neck. Ever since then I like to tell that story – if you haven't got a spare, then get one!
I am surprised to see that many road trailers are sold with 2 ply tyres fitted as standard. They are a good tyre but not exactly what I would call durable. If you want real security from flats, then I suggest you invest in a set of 4 ply tyres which naturally have a higher speed rating. Our tyres are all 4 ply rating.  They are significantly more expensive, but more reliable too. Be aware that the torque settings on trailer wheel nuts are not as high as road wheels. Check out your stud settings here. Correct tyre pressures also make a significant contribution to reliability and handling. Check the advised tyre pressures here.
Trailer Lighting Boards
Last but not least is the continuous hassle with number lighting boards. When leaving the Stevie Nick event I noticed that hardly any of the lights were working on my lighting board. This year we have invested in some LED boards. We are advised that the LED's are more secure than the anti vibration conventional bulbs and I would recommend changing to a new LED lighting board with fog light.
Since type approval is now required for all road trailers sold in the UK and Europe, we are expecting that many sailors will be keen to keep their existing road base on the road as the new type approved trailers will have some cumbersome lighting board attachments. The new rules mean we have to attach the lighting board to the trailer not to the boat. Old trailers are currently excused so I for one will maintain mine.