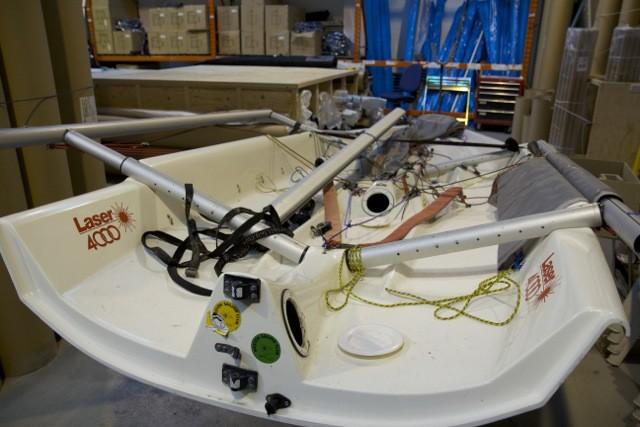 Boat Maintenance Tips
#BoatPrep101 - Part 3 Blocks Hardware and Rope
So far in the #BoatPrep101 series we have covered:
and by the end of the refurb it looked like this:
The process of taking an unloved boat, cleaning off the old pro grip, checking and replacing with Rooster Pro Grip, adding only the odd new parts was exciting. Boats like the Laser 4000 were built to last. 
I did find that after taking off the spinnaker sock, that the chute was cracked and needed some remedial work to take the new style spinni chute.
With a dremel I was able to grid out the glass fibre part of the Chute opening and then add some epoxy and glass fibre. Just an evening job really. I also noticed that the inside of the Chute Opening had old screw holes that we were not planning to use, so I filled these:
You can also see that the spinni halyard has also cut into the gelcoat. We opted for some Chafe Tape to reduce the friction on this. Now you can see the chute with the black chafe tape attached:
Now with the new design of 4000spinni sock we have planned, we need to reduce the amount of possible snagging under the chute at the bow. So we opted to remove the P clips holding a spectra line across the bow of the boat. This line stops the spinni pole from dropping down as the kite is dropped. By using the same holes and two white small boggles we have now a much smoother and more effective pole control rope:
Here is the 4mm plastic boggle or rope stopper under the gunwale:
When I sailed the 4000 in the 90's,  I loved 7mm Polilite® for the Spinni Sheet. It was light and tangle free and conformed to the class rules of an un-tapered spinni sheet. Once again I expect to use 6mm Polilite® on the Jib Sheet and 8mm on the mainsheet. I once tried a dynema spini halyard for the 4000 in the 90's. We got a tangle in the halyard that put us in the drink whilst being televised. I will not forget the embarrassment ever - but once we reverted to our spinfast halyard - we were never to suffer that ignominy again.  Our control lines are pre cut. 4000 control lines are available here. There were many old blocks on the 4000 that were still serviceable and many that were not.  New blocks and rope make the 4000 look like a modern boat. It certainly has earned its place as an icon of modern high performance dinghy design.  

Surfy - pictured winning the 2015 4000 Italian Nationals