Whether you're a complete beginner or a seasoned professional, wearing the right kit for the conditions and being comfortable on the water can affect your enjoyment, safety and personal results. This article forms an honest and rigorously tested guide on the best practices for what to wear on the water whilst taking part in the majority of watersports activities. Cultivated by a huge team of enthusiasts, professional athletes and customers. We model and continue to develop our kit on this layering system but it works in conjunction with whatever kit you may already have, so even if you feel you only need a boost in some areas of your kit you might find something here very helpful...

The Rooster® layering concept involves selecting a base layer, mid-layer and top layer that are interchangeable and can be worn all year round – and this is where you get your value for money. Choose pieces that can be layered up or down depending on the temperature and conditions, this is particularly important for athletes who can experience four seasons in one day on the water, something a lot of us have experienced
Thanks to advances in fabric technology and the way these are applied to the design and fit of sailing kit, you can find that you can get away with a "less is more" approach to your kit bag. Our kit is specifically designed and tested by all of us at Rooster® as well as our sponsored athletes and customer feedback, to give the wearer maximum comfort, safety and functionality whilst maintaining quality and durability - it won't break the bank either, our fundamental aim is to make getting on the water safely and enjoying it fully as accessible as possible.
THERMAL BASE LAYERS
POLYPRO™

The Rooster® base layer is called PolyPro™ and should be worn next to your skin underneath your wetsuit. Our PolyPro base layers are "hydrophobic" which basically means the material repels water. These base layers can be washed overnight and will be dry by morning, in fact, they feel dry to the touch when you take them out of the washing machine. They're also multi-purpose and whilst great for kayaking, sailing, and every type of surfing there is, it can also be used for land sports like skiing, winter cycling or running, basically any time you feel like you need to put thermals on. Our PolyPro™ base layers are available as a top, leggings, glove liners, socks, headband and balaclava.
HOT STUFF

Our hottest base layer in the range, this thermal system uses a combination of two of our most popular fabrics. The main heat boosting properties of this top derive from its 0.5mm titanium lined neoprene used at the chest, back and upper arms. This fabric is a clever material that works with your body to regulate your temperature, where the titanium lining reflects heat from your body back onto your body, rather than letting it escape through the fabric. Through combining this hot fabric with our soft and stretchy Polypro™ on panels where you want the maximum movement and breathability, underarms, sides, neck and lower arms, gusset, this material is set for thermal comfort and performance.
COOLING BASE LAYERS
UV RASH AND LYCRA
Your go-to rash tops or any UV Rash and Lycra you wear, are designed to protect you for UV rays and keep you cool under the sun. The lycra that Rash Tops are made from allows moisture to be spread through the garment and around your body in order to cool you down while you're working hard in the sun as well as providing UV protection SPF30+. If you like the science behind the products read our blog on 'What have molecular forces got to do with watersports?'
Common Misconception: Underneath wetsuits people often like to wear rash vests or lycra tops to keep warm, these kinds of tops are not ideal for this purpose, they are designed to absorb and spread as much water as possible around the garment in order to cool you down. They are an excellent UV resistant cooling top to wear under the hot sun but if you are aiming to keep warm then you need a base layer with moisture-wicking, thermal properties like PolyPro.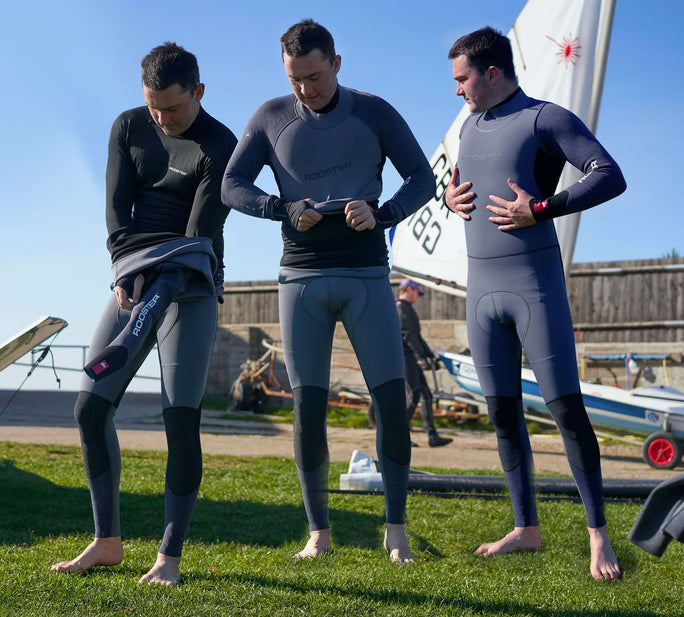 The mid-layer is your neoprene or wetsuit layer. We recommend choosing a Longjohn and Top as they can be worn as separates depending on the conditions. We offer these products in a range of thickness to suit the climate the athlete is in predominately and whether they tend to feel the cold or not. The most popular with our year-round athletes is the SuperTherm® 4mm Longjohn. For those in warmer waters, the ThermaFlex® 1.5mm Longjohn would be more suitable. These can be paired up with a top of the same neoprene thickness, however many opt for a thinner layer combining a 4mm Longjohn with a 1.5mm top.
THERMAFLEX®
Mid-lightweight Thermaflex neoprene, perfect for temperatures ranging from 12-20 degrees, or can be layered up in colder conditions.
With a 1.5mm neoprene top layered with a 1.5mm neoprene longjohn, you will get a 3mm thickness on your core while your arms and your legs are freer to do the work.

Great fit through shaping to body and legs provides additional comfort and enhanced fit. The fabrics have been upgraded with environmental impact playing an important part in the development as well as performance. See full material make up here.
SUPERTHERM®
The longjohn has a quick dry super soft front panel designed to work in conjunction with the Supertherm® Top, which has a quick dry panel at the back in order to provide superior warmth and comfort around the entire core when worn together. The fabrics and features used on Supertherm mean it will be your best friend in the coldest conditions (below zero) but should also be able to take you up to around 15 degrees, when layered with a cooler top option.
With a 4mm neoprene top layered with a 4mm neoprene longjohn, you will get an 8mm thickness on your core while your arms and your legs are freer to do the work.
TOP LAYERS: WIND AND SPRAY PROTECTION
AQUAFLEECE®
Finally, the top layer is the cherry on the Rooster® cake. Our development of the Aquafleece® material revolutionised the standard spray top (and the rest - including a number of best selling accessories, gloves, neck gaitersand robes). The fabric has a Polyurethane coating on the outside for water resistance, durability and flexibility combined with a fleece inner layer to keep you snug and warm - a combination that works well when wet or dry. It's one of those products that people try once and never look back.
LIGHTWEIGHT TOP LAYERS:
Inspired by super-breathable top layers worn by kayakers and cyclists, our latest Low bulk, lightweight performance 2.5l spray top and smock are perfect for those close wet windy moderate too hot days where you don't need the warmth of the Aquafleece® but want a bit more protection from the elements. This breathable and waterproof top packs up small enough to easily stuff into your 10L drybag for easy storage. Cool downwind, but protective upwind.
AND THE REST...
Once you've added your accessories – Gloves, Boots, Buoyancy Aid, Hat – you're ready to go and will be warm, comfortable and moving around the boat like a ninja! Best of all, you'll have a wardrobe of interchangeable kit that will see you through all seasons.
For advice on layering and which products might work best with your existing kit for the season you're about to hit the water in, just give us a call, we're more than happy to help.