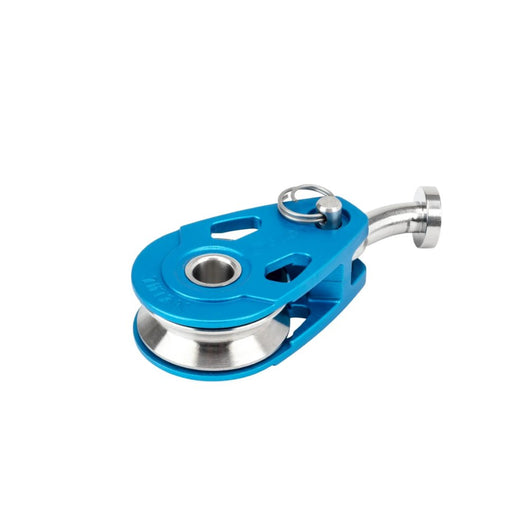 Description
Delivery & Returns
Description
TIITAN ILCA VANG BLOCK A9031-873
ILCA sailors will be happy to know the new TiiTAN block is also available in a specifically designed ILCA kicker block version.
Featuring a slightly longer body to incorporate the ILCA vang key into a neat, lightweight and extremely strong package.
The kicker key is held in place with a clevis pin and split ring, so is easily replaced.
The new lightweight Titanium sheave includes our specially devised V profile, optimised for the fast running of rope without weakening the working load of the line. The V profile additionally allows smaller Dyneema or wire lines to be paired with the TiiTAN block, whilst retaining the friction reduction benefits of a larger sheave diameter.
The TiiTAN bearing system is one of a kind. Featuring twin rows of ceramic ball bearings running on a stainless-steel axle gives the titanium sheave unmatched rolling speeds. Ceramic ball bearings also offer the added benefit of reduced friction in salt water, when compared to stainless steel bearings.
A key feature within the TiiTAN bearing system is the precision plain bearing washer. When the TiiTAN is exposed to extreme static loads, which would normally cause damage to the internal bearing system, it changes to a plain bearing block. Stopping the ball bearings from getting damaged and thus no longer performing as designed. As soon as the static load is reduced the TiiTAN returns to a high-performing dynamic block.
The load at which this change happens has undergone meticulous testing and development to ensure the block stays in dynamic mode for as long as possible.
Aluminium side cheeks hold the TiiTAN together and offer a much stronger and longer-lasting body that holds its shape under extreme loads. These side cheeks feature a chamfered rope guide to keep the block in the correct orientation as well as two lashing line holes. We recommend using thin whipping twine or kite line to lash the attachment rope in place. 
The TiiTAN block is perfect for use across a wide range of watercraft, including high-performance dinghies, foiling dinghies, sports boats and grand prix yachts.
Applications can range from kicker cascades, halyard turning points, backstay systems, highly loaded Cunningham, and outhaul systems.
Key Features
Weighs only 46grams. 21% lighter than A2031XHL-873.
1000Kg Breaking load.
Lightweight titanium sheave.
Ceramic ball bearings for faster rolling speeds.
Extremely high loading aluminium side cheeks.
Custom body to incorporate Allen SA.873 kicker key.
The Allen Engineering drawing for the A9031-873 block can be found HERE
NOTE: – This block is currently only available in Teal.
Block Properties
| | |
| --- | --- |
| Breaking Load | 1000 Kg. |
| Overall Length | 48 mm |
| Max. Line | 8 mm |
| Working Load | 500 Kg. |
| Weight | 43 g. |
Delivery & Returns