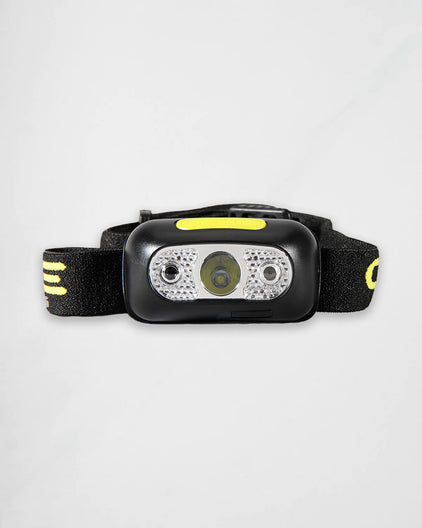 Description
Delivery & Returns
Description
Coast CLH200 Rechargeable Head Torch - 200 Lumens
The left hand power button operates the torch normally and each press will cycle through high, mid, low and off, while holding the button down in any state will access the SOS mode.
There is also a sensor control switch so that the torch can be turned on and off by waving your hand in front of the torch (within 15 cm range), which is perfect for when you're carrying out tasks where your hands may be dirty so you don't want to touch the torch.
Powered by a built in 1200 mAh lithium polymer rechargeable battery, the CLH200 has a run-time of 5 hours. Recharging the unit is easy, simply insert the micro USB cable into the underside of the head torch (with the torch turned off) and the other end into a USB power source.
To show charging is in progress a red LED will illuminate and turn green to show charging is complete after approximately 4 hours. The high visibility yellow buttons means that they are easier to be seen, which is useful when working in an industrial environment.
Operating Modes: High / Mid / Low / Strobe / Motion Sensor
Luminous Flux: Up to 200 lumens
LED: 1 x white LED
Focus: Fixed focus
Beam Range: Up to 55 m
Run Time: Up to 5 hours
Charging Time: 4 hours
Batteries Required: Built in lithium polymer rechargeable battery x 1
Weight: 50 grams
Dimensions: 50 x 30 x 36 mm
Switch Type: Push button / sensor
Impact Resistance: 1.5 m
Warranty: 1 year
Regulatory Compliance: CE / RoHS
Delivery & Returns