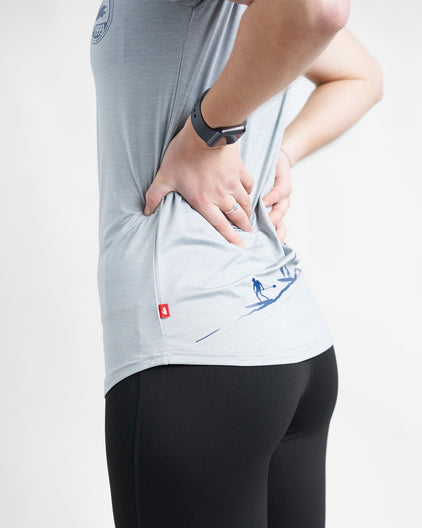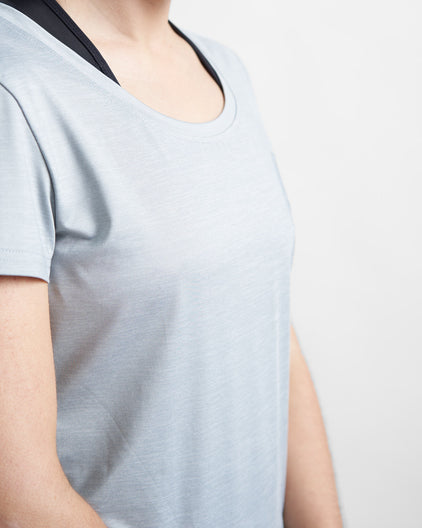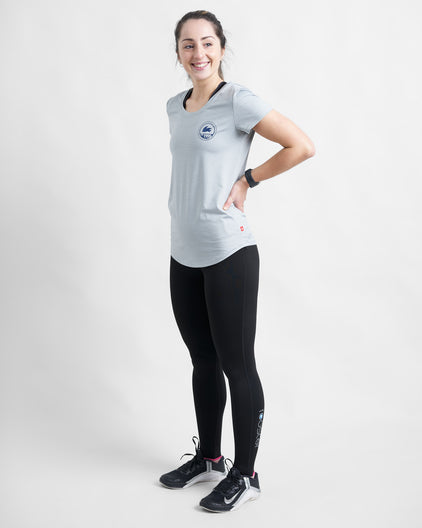 Description
Delivery & Returns
Description
Our signature short sleeve t-shirt.
Technical in fabric with quick drying and UV50+ properties, yet in appearance it looks and feels like a t-shirt that you can wear for everyday style. This will quickly become your favourite t-shirt for the active person. Great for changeable lifestyles and for when you are at work but then make an impulsive decision to go out on the SUP, to the gym or for a run – this t-shirt will perform to its best.
Note we have designed this t-shirt as a loose fitting product for maximum comfort – if you prefer a tighter fit, we recommend that you go down a size.
Features:
•Short sleeved
•Scooped Round neck
•Shaped hem for a more flattering fit
•Textured fabric aesthetic
•Quick drying
•UV50+ protection
•Loose fit – shaped for a female shape

Materials:
•100% Recycled Polyester
Delivery & Returns
Reviews
Total 5 star reviews: 2
Total 4 star reviews: 0
Total 3 star reviews: 0
Total 2 star reviews: 0
Total 1 star reviews: 0
100%
would recommend this product
What is your usual clothing size?

UK14

What is your height?

5' 6"

Great fit and very comfy

Very comfy and easy to wear

Sizing

Rated 0.0 on a scale of minus 2 to 2

Quality

Rated 5.0 on a scale of 1 to 5

Experience

Rated 5.0 on a scale of 1 to 5

Quality and stylish

As with all Rooster gear it's lovely quality. I went for the grey colour, which is a very nice silver shade. Silky smooth and feels nice on. Fits true to size. Very happy with my purchase and would recommend.
Reviews Loaded

Reviews Added

{ "@type" : "On Offer","sku": "142945","availability" : "http://schema.org/InStock", "price" : 33.0, "priceCurrency" : "EUR", "url" : "https:\/\/europe.roostersailing.com\/products\/141477?variant=41785865011356" }, { "@type" : "On Offer","sku": "142943","availability" : "http://schema.org/InStock", "price" : 33.0, "priceCurrency" : "EUR", "url" : "https:\/\/europe.roostersailing.com\/products\/141477?variant=41785865044124" }, { "@type" : "On Offer","sku": "142942","availability" : "http://schema.org/InStock", "price" : 33.0, "priceCurrency" : "EUR", "url" : "https:\/\/europe.roostersailing.com\/products\/141477?variant=41785865076892" }, { "@type" : "On Offer","sku": "142941","availability" : "http://schema.org/InStock", "price" : 33.0, "priceCurrency" : "EUR", "url" : "https:\/\/europe.roostersailing.com\/products\/141477?variant=41785865109660" }, { "@type" : "On Offer","sku": "141478","availability" : "http://schema.org/InStock", "price" : 33.0, "priceCurrency" : "EUR", "url" : "https:\/\/europe.roostersailing.com\/products\/141477?variant=41785865142428" }, { "@type" : "On Offer","sku": "141479","availability" : "http://schema.org/InStock", "price" : 33.0, "priceCurrency" : "EUR", "url" : "https:\/\/europe.roostersailing.com\/products\/141477?variant=41785865175196" }, { "@type" : "On Offer","sku": "141480","availability" : "http://schema.org/InStock", "price" : 33.0, "priceCurrency" : "EUR", "url" : "https:\/\/europe.roostersailing.com\/products\/141477?variant=41785865207964" }, { "@type" : "On Offer","sku": "141481","availability" : "http://schema.org/InStock", "price" : 33.0, "priceCurrency" : "EUR", "url" : "https:\/\/europe.roostersailing.com\/products\/141477?variant=41785865240732" }, { "@type" : "On Offer","sku": "141482","availability" : "http://schema.org/InStock", "price" : 33.0, "priceCurrency" : "EUR", "url" : "https:\/\/europe.roostersailing.com\/products\/141477?variant=41785865273500" }, { "@type" : "On Offer","sku": "142940","availability" : "http://schema.org/InStock", "price" : 33.0, "priceCurrency" : "EUR", "url" : "https:\/\/europe.roostersailing.com\/products\/141477?variant=41785865306268" }, { "@type" : "On Offer","sku": "142944","availability" : "http://schema.org/InStock", "price" : 33.0, "priceCurrency" : "EUR", "url" : "https:\/\/europe.roostersailing.com\/products\/141477?variant=41785865339036" } ] }