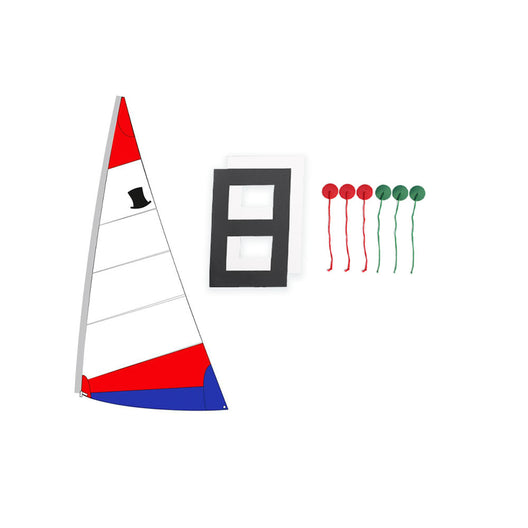 Description
Delivery & Returns
Description
A Topper® Sail folded from new in a sail bag. Topper® part number W60/RBF/SE Official Topper 5.3 Racing Sail - Red / White / Blue in colour
The Combo Deal comes complete with:
Teflon® Coated Telltales (3 green and 3 red) - Where to stick your Telltales?  See HERE
230mm Digital '8' Sail Number (BLACK) Main Sail Numbers (10)
230mm Digital '8' Sail Number (WHITE) Championship Numbers (6)
This sail is the 'new design' to the 5.3 Topper Sail (Late 2019)
The latest design of Topper 5.3 sail (from 21st Sept 2020 manufacture) has:
No sail head cringle. (See web image of actual sail).
A different sail material is now used.
The design/cut is different at the head of the sail.
The luff tube is now tapered
NOTE: If you have the pre 2014 version with a halyard or halyard loop, you will need to purchase a new mast top fitting. This is Rooster Product Code: 130205: and can be found HERE
Advantages of the webbing version:
1) No more breaking mast cranes ruining your race results.
2) The sail sits perfectly at the top.
---
Please NOTE that due to Topper® Class rules changes (July 2019) all Topper® sail numbers must be BLACK and the DIGITAL style.
Rule "G.4.2.2 c) Topper sail number shall be black digital eights. As a general rule sail elements shall be a minimum of 45mm apart and a maximum of 55mm apart."
For a list of complete rule changes (July 2019) please see link HERE
Unfortunately the Rooster Sail Numbers service is NOT available for digital eight numbers and characters.
How to apply the sail numbers?  Please see this link HERE
---
Topper® is a registered trademark of Ian Proctor Designs Limited.
Delivery & Returns
Reviews
Total 5 star reviews: 2
Total 4 star reviews: 0
Total 3 star reviews: 0
Total 2 star reviews: 0
Total 1 star reviews: 0
100%
would recommend this product
Perfect

Everything needed together. Lovely new sail to replace one chewed by mice! It's a better sail than the one before (even pre mice) happy with purchase.

5 Stars

Just landed in excellent condition to replace damaged 20428 multi color sail from 1989 Dunhill Topper. Nice to see adjusters on official sail as well as fitting older Toppers with halyard loop, apparently serious racers still rate this method of keeping the sail up. stiching has been known to fail on top loop. Just shame all Topper sails are the same color now. Well done Rooster for combo deal. Rgs Paul
Reviews Loaded
Reviews Added