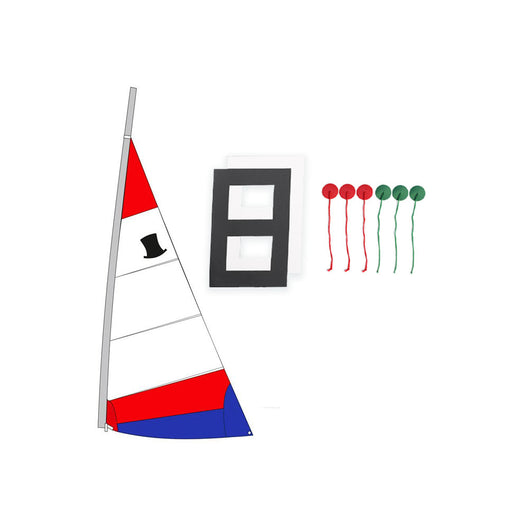 Description
Delivery & Returns
Description
A Topper® 4.2m Sail Folded new in a sail bag. Topper® part number W60/RBF/1SE
Official Topper 4.2m Racing Sail - Red / White / Blue in colour.
Please note this sail no longer has the cringle for the old style mast crane. Please check your top mast has the Topper E11 Mast Head Fitting (post 2014)
The Combo Deal comes complete with:
Teflon® Coated Telltales (3 green and 3 red)
230mm Digital '8' Sail Number (BLACK) Main Sail Numbers (10)
230mm Digital '8' Sail Number (WHITE) Championship Numbers (6)
Please NOTE that due to Topper® Class rules changes (July 2019) all Topper® sail numbers must be BLACK and the DIGITAL style.
Rule "G.4.2.2 c) Topper sail number shall be black digital eights. As a general rule sail elements shall be a minimum of 45mm apart and a maximum of 55mm apart."
For a list of complete rule changes (July 2019) please see link HERE
Unfortunately the Rooster Sail Numbers service is NOT available for digital eight numbers and characters.
---
Topper® is a registered trademark of Ian Proctor Designs Limited.
Delivery & Returns