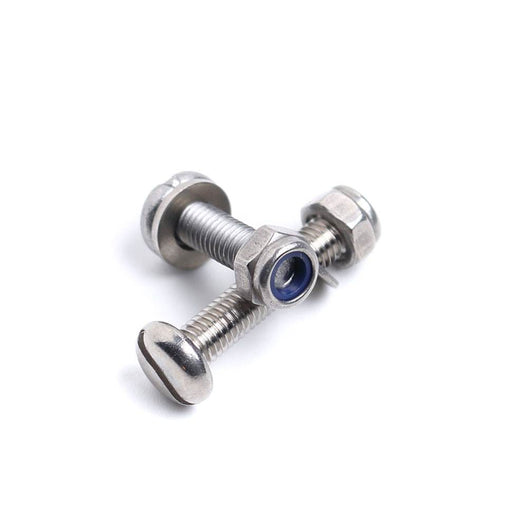 Description
Delivery & Returns
Description
Sailing Solutions Topper Tiller Extension Fixing Kit, All the nuts and bolts that you will require to fit a rubber universal joint to a tiller arm as a replacement from the mechanical joint.
Preparation
You need to remove the old tiller extension and joint and this will leave one hole. You will need the purchase the SAILING SOLUTIONS TOPPER TILLER EXTENSION FIXING KIT, this is 2 no. M5 bolts, washer and nyloc nuts. You will need to drill with a 5mm drill bit one new hole so you can bolt on the new UJ fitting base that comes with the new tiller extension. The M5 bolts are deliberately different lengths, again, see the below for more details (25mm and 16mm bolts supplied)
How to fit?
1 Take the joint apart by un-clipping the retaining cap and sliding the rubber joint out of the plate.
2. Remove the old mechanical universal joint from the tiller arm.
3. Use the longest bolt with associated washer and nut to bolt the front of the plate down.
4. Drill through the back hole in the plate with a 5mm drill.
5. Use the shorter bolt and associated washer and nut to attach the back of the plate.
6. Reassemble the joint and clip the cap in place.

It is advised to remove the joint from it's plate when you have finished sailing for the day and to inspect the rubber for damage periodically.
Delivery & Returns