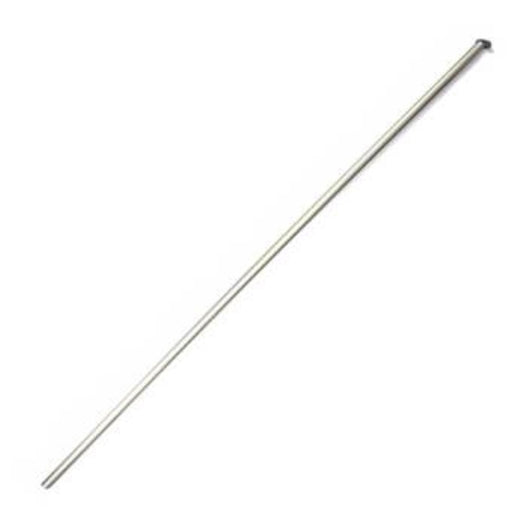 Description
Delivery & Returns
Description
Topper®Official Topper Upper Mast complete with fittings.

Fitted with the NEW mast crane suited for the webbing sails released September 2014. If you have an old style sail which uses the sail cringle and a halyard loop, you will need to replace the mast head fitting - see related items.
Need to fit the 'old style' mast heading fitting to this mast, so your old sail still fits?
1. On the new Topper E1 upper mast using a 3mm bit and drill remove the head of the single pop that holds the new style top mast head fitting.
2. Using a hammer and small punch with a narrow tip, tap out (goes into the mast) the rest of the pop rivet, & then pull out/lever out the plastic mast head fitting from the mast. Discard the rest of rivet when you get the plastic fitting out of the mast. Note the orientation of the new mast crane to the tube. This is important as the older style crane must be aligned the same direction as the new style one you are about to replace.
3. Measure carefully the distance from the top of the new E1 mast to the centre of the hole. This will be approx. 9mm Measure down from the top of the older style mast crane and drill a 3.5mm hole in the plastic fitting. Make sure your new hole you are going to drill in the plastic crane is oriented correctly so that it matches the one you just removed.
4. Fit / tap in the old style mast crane into your new E1 Topper mast, and line up the fixing holes . Then, using a suitable pop rivet gun re rivet the old style mast crane with the supplied pop rivet in the crane kit. You will not need the use the 2 no. internal black coloured seals in the kit, as your new Topper mast has those fitted already.
You will find a number of TOP Topper tips on the Rooster Blog on how to prepare your racing Topper HERE

Unfortunately we can not ship this product overseas.
---
Topper® is a registered trademark of Ian Proctor Designs Limited.
Delivery & Returns