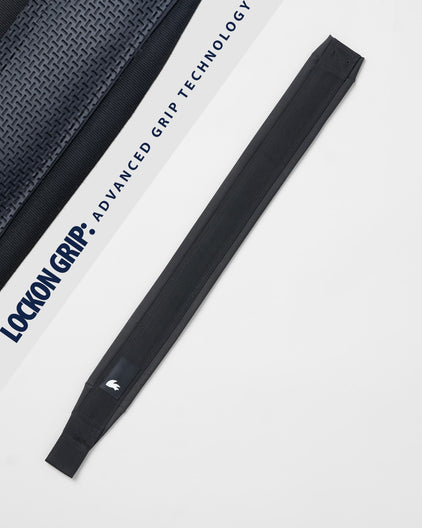 Description
Delivery & Returns
Description
Upgrade your sailing game– the perfect fusion of grip, comfort, and innovation. Say goodbye to slippery surfaces and discomfort, and say hello to enhanced control, confidence, and manoeuvrability. 
Our latest iteration to the ILCA®/Laser Toestrap now features an enhanced 'Lockon' grip technology. Constructed using our durable and well proven 'pro plus' construction as used throughout our toestrap range, this latest innovation benefits from an advanced extra grippy rubber underside. Designed to take your sailing experience to the next level, this cutting-edge Toestrap combines superior grip, water management, and comfort to elevate your performance on the water.? 
Features: 
Advanced Grip Technology: Equipped with a specially formulated rubber composition with a very high coefficient of friction that offers unparalleled grip against any boot surface. This ensures that you stay securely connected to your boat, even in the most challenging conditions. 
Criss Cross Deboss Pattern: The underside of the Toe Strap boasts a meticulously designed criss-cross deboss pattern. This pattern serves a dual purpose – facilitating efficient water runoff and promoting air movement.  

Optimized Comfort and Performance: The ergonomic design of the Toe Strap guarantees optimal comfort during extended sailing sessions. The enhanced grip minimizes the need for excessive foot strain, allowing you to focus on manoeuvring your Laser Dinghy with precision and finesse. 

Durable Construction: Crafted from high-quality materials, the Lockon ToeStrap is built to withstand the rigors of competitive sailing.  

Easy Installation: Installation is easy, can be used in conjunction with our Laser toestrap adjustment system (hyperlink) 
When the Rooster Pro Plus toestrap is fitted to the Laser 1, the distance between aft end of toestrap and the Laser 1 aft bulk head is approx.230mm 
TOESTRAP PROPERTIES 
| | |
| --- | --- |
| Number of Toestraps  | 1 NO.  |
| Suitable for classes  | LASER®/ILCA  |
| Overall Length  | 790 mm  |
| Width  | 80 mm  |
| Thickness  | 11.8 mm  |
| Padded  | YES  |
| Lifters  | NO  |
| End Construction  | SCREW/LOOP  |
| Weight  | 235g  |
Delivery & Returns