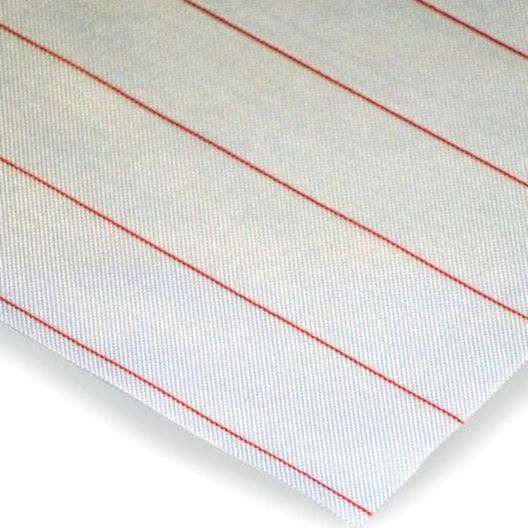 Description
Delivery & Returns
Description
Peel Ply TAPE 100mm wide - price per metre.
Peel Ply is a finely woven fabric treated with a release agent to which epoxy will not bond. Excellent for providing a release and reducing subsequent sanding prior to applying more epoxy.
This nylon cloth has been treated with a release agent, so that epoxy will not bond to it. It's typically applied over a wet laminated surface and then peeled off when everything is cured, revealing a beautifully even surface underneath that's ready for your next layer of epoxy. No cleaning or hours of sanding needed!
While the finish looks even, it's actually textured. The fine weave of the fabric leaves behind tiny bumps and valleys in the cured epoxy and it's these that your next layer of epoxy will adhere to.
USING PEEL PLY: A GENERAL GUIDE
Apply your peel ply to your surface with epoxy and a plastic squeegee, such as WEST SYSTEM® 105/205. Make sure you wet it out thoroughly.
Lay over your peel ply and smooth it out with your squeegee.
Once you have achieved a consistent colour surface to your peel ply (with no obvious air bubbles or pockets) you can leave it to cure. Just remember to leave a bit of peel ply at the edge of your work, which you can grab hold of later. (It is important to ensure that the peel ply is in 100% contact with the underlying epoxy surface. If there are any air pockets between the peel ply this will affect the adhesion of the next layer of epoxy).
Once cured, simply pull the peel ply away to reveal the perfect surface for your next layer of epoxy.
Removal of typical peel ply tape when epoxy has cured
Delivery & Returns
Reviews
Total 5 star reviews: 2
Total 4 star reviews: 0
Total 3 star reviews: 0
Total 2 star reviews: 0
Total 1 star reviews: 0
100%
would recommend this product
Mr

Great, made the repair to my foil lot easier
Reviews Loaded
Reviews Added