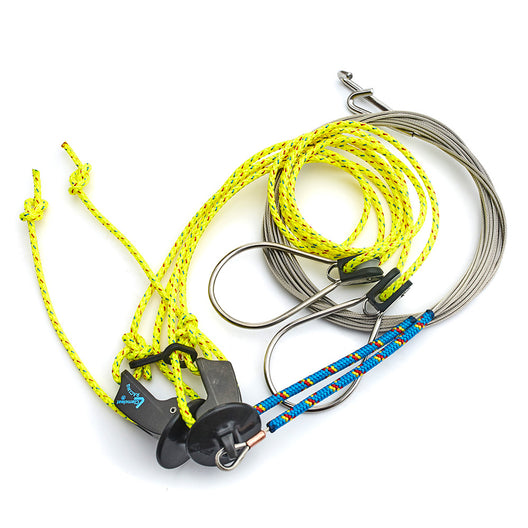 Description
Delivery & Returns
Description
Generic Trapeze Wire Set, (pair) supplied with trapeze rings, handles (discs) and adjustment Clam cleats. Made from 1 x 19 wire either 2mm or 2.5mm. Please input the wire diameter required.
A Clam cleat is attached with a rope adjustment strop, plus a short length of rope round the wire to protect it.
Also, please specify the wire length you require - This is the Bearing Surface to Bearing Surface distance required as shown below - and input the dimension in the custom input field.
NOTE: The top terminal fitting can be either a Hook, 'T Terminal' or a Hard Eye fitting depending on your dinghy class and mast maker  - (Some Superspars mast have a simple hole for a top Hook fitting for example).
The trapeze ring (with block) may vary in make (e.g. Ronstan, Allen, or Seasure etc) also the rope colours used in building of this set may vary.
Please input the above data in the input field - example: 2.0 mm, 2.554 mm, Hook
Delivery & Returns