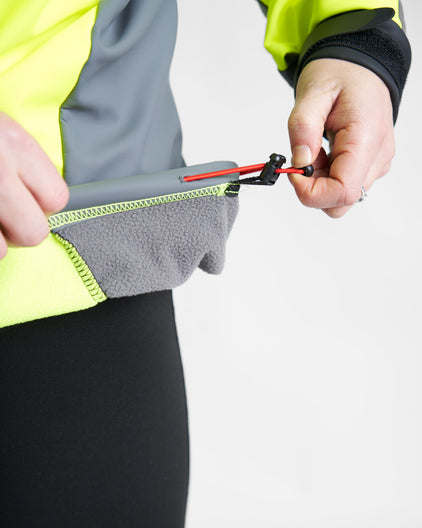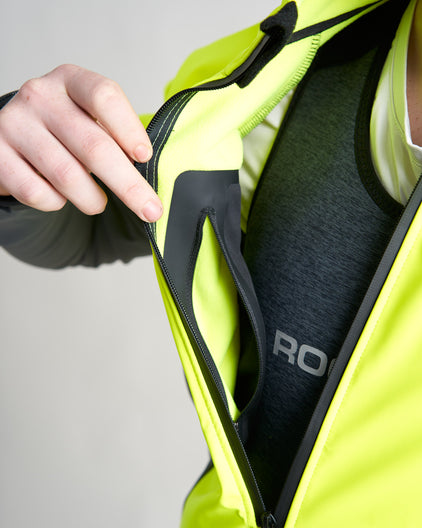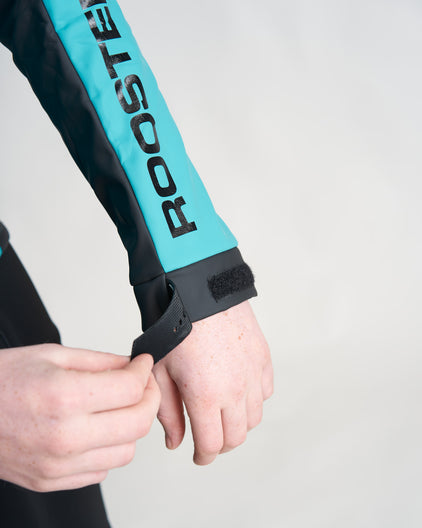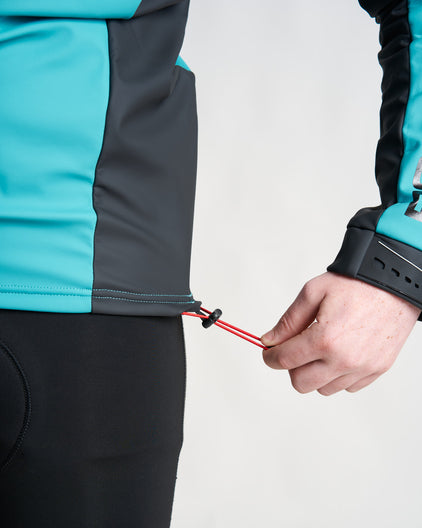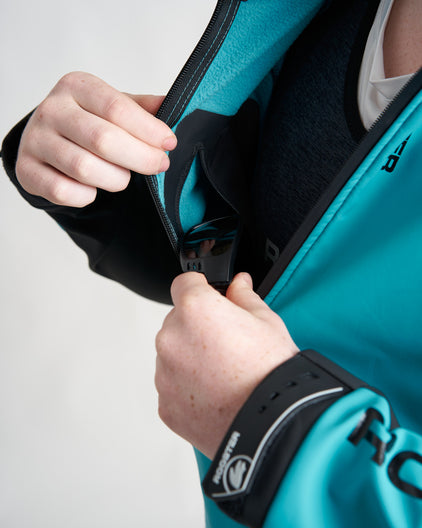 Description
Delivery & Returns
Description
Specifically designed for the active sports enthusiast, this top has a large front zipper for ultimate venting. The panel layout at the upper body and shoulders has been designed to cleverly allow extra space for a large range of arm movement. Constructed using our Aquafleece® material which utilises a polyurethane coating on the outside for water resistance, durability and flexibility combined with a fleece inner layer to keep you snug and warm - a combination that works well when wet or dry. We have left the seams un-taped so that the top can be more breathable, but with the overlock seams, it still protects you from rain and spray.
Features:
•    Water resistant construction
•    Soft light fleece lining for warmth and comfort in all climates
•    Seams are not taped so perfect crossover top for a range of temperatures
•    Large zip opening at front for instant venting
•    Elasticated adjustable neck bungee – adjusts from back
•    Soft fleece zipper cover at top of neck for comfort against your face
•    Tight fitting at hem/hips to maintain position on body
•    Elastic adjustment around hem
•    Adjustable Velcro cuffs
•    Handy pocket inside chest
•    Seams and panel layout fit well for unisex wear
Materials:
•    Rooster PU laminated and bonded light fleece
•    Composition: 88% Polyester, 12% PU
Delivery & Returns
Reviews
Total 5 star reviews: 7
Total 4 star reviews: 1
Total 3 star reviews: 0
Total 2 star reviews: 0
Total 1 star reviews: 0
100%
would recommend this product
Sizing
Rated 0.0 on a scale of minus 2 to 2
Quality
Rated 5.0 on a scale of 1 to 5
Experience
Rated 5.0 on a scale of 1 to 5
Excellent for Celtic Longboat rowing in winter

Bought to sea row in the winter months, it's the perfect mix of warm, waterproof, wind proof and comfortable whilst exercising. The long zip at the front is great and can be easily unzipped a bit to cool down slightly if needed.

Great top!

Perfect for rowing! Love the longer length, zip and inside pocket.

Sizing

Rated 0.0 on a scale of minus 2 to 2

Quality

Rated 5.0 on a scale of 1 to 5

Experience

Rated 5.0 on a scale of 1 to 5

Active Aquafleece Top, size XL

Good technical details, comfortable fit, looking forward to using it for real. Excellent courier service by DPD.

Active Aquafleece Top

Easy to get because of having the front zip. Kept me warm while out windsurfing in windy conditions. Very comfortable to wear. Highly recommend.

Active Aquafleece top

Really comfortable and nice to wear racing or on the rib.
Reviews Loaded

Reviews Added

{ "@type" : "On Offer","sku": "142425","availability" : "http://schema.org/InStock", "price" : 116.0, "priceCurrency" : "EUR", "url" : "https:\/\/europe.roostersailing.com\/products\/142423?variant=41609711976604" }, { "@type" : "On Offer","sku": "142426","availability" : "http://schema.org/InStock", "price" : 116.0, "priceCurrency" : "EUR", "url" : "https:\/\/europe.roostersailing.com\/products\/142423?variant=41609712009372" }, { "@type" : "On Offer","sku": "142427","availability" : "http://schema.org/InStock", "price" : 116.0, "priceCurrency" : "EUR", "url" : "https:\/\/europe.roostersailing.com\/products\/142423?variant=41609712042140" }, { "@type" : "On Offer","sku": "142428","availability" : "http://schema.org/InStock", "price" : 116.0, "priceCurrency" : "EUR", "url" : "https:\/\/europe.roostersailing.com\/products\/142423?variant=41609712074908" }, { "@type" : "On Offer","sku": "142429","availability" : "http://schema.org/InStock", "price" : 116.0, "priceCurrency" : "EUR", "url" : "https:\/\/europe.roostersailing.com\/products\/142423?variant=41609712107676" }, { "@type" : "On Offer","sku": "142430","availability" : "http://schema.org/InStock", "price" : 116.0, "priceCurrency" : "EUR", "url" : "https:\/\/europe.roostersailing.com\/products\/142423?variant=41609712140444" }, { "@type" : "On Offer","sku": "142438","availability" : "http://schema.org/InStock", "price" : 116.0, "priceCurrency" : "EUR", "url" : "https:\/\/europe.roostersailing.com\/products\/142423?variant=41609712173212" }, { "@type" : "On Offer","sku": "142439","availability" : "http://schema.org/InStock", "price" : 116.0, "priceCurrency" : "EUR", "url" : "https:\/\/europe.roostersailing.com\/products\/142423?variant=41609712205980" }, { "@type" : "On Offer","sku": "142440","availability" : "http://schema.org/InStock", "price" : 116.0, "priceCurrency" : "EUR", "url" : "https:\/\/europe.roostersailing.com\/products\/142423?variant=41609712238748" }, { "@type" : "On Offer","sku": "142441","availability" : "http://schema.org/InStock", "price" : 116.0, "priceCurrency" : "EUR", "url" : "https:\/\/europe.roostersailing.com\/products\/142423?variant=41609712271516" }, { "@type" : "On Offer","sku": "142442","availability" : "http://schema.org/InStock", "price" : 116.0, "priceCurrency" : "EUR", "url" : "https:\/\/europe.roostersailing.com\/products\/142423?variant=41609712304284" }, { "@type" : "On Offer","sku": "142443","availability" : "http://schema.org/InStock", "price" : 116.0, "priceCurrency" : "EUR", "url" : "https:\/\/europe.roostersailing.com\/products\/142423?variant=41609712337052" }, { "@type" : "On Offer","sku": "142444","availability" : "http://schema.org/InStock", "price" : 116.0, "priceCurrency" : "EUR", "url" : "https:\/\/europe.roostersailing.com\/products\/142423?variant=41609712369820" }, { "@type" : "On Offer","sku": "142992","availability" : "http://schema.org/InStock", "price" : 116.0, "priceCurrency" : "EUR", "url" : "https:\/\/europe.roostersailing.com\/products\/142423?variant=42398619402396" }, { "@type" : "On Offer","sku": "142993","availability" : "http://schema.org/InStock", "price" : 116.0, "priceCurrency" : "EUR", "url" : "https:\/\/europe.roostersailing.com\/products\/142423?variant=42398619435164" }, { "@type" : "On Offer","sku": "142994","availability" : "http://schema.org/InStock", "price" : 116.0, "priceCurrency" : "EUR", "url" : "https:\/\/europe.roostersailing.com\/products\/142423?variant=42398619467932" }, { "@type" : "On Offer","sku": "142995","availability" : "http://schema.org/InStock", "price" : 116.0, "priceCurrency" : "EUR", "url" : "https:\/\/europe.roostersailing.com\/products\/142423?variant=42398619500700" }, { "@type" : "On Offer","sku": "142996","availability" : "http://schema.org/InStock", "price" : 116.0, "priceCurrency" : "EUR", "url" : "https:\/\/europe.roostersailing.com\/products\/142423?variant=42398619533468" }, { "@type" : "On Offer","sku": "142997","availability" : "http://schema.org/InStock", "price" : 116.0, "priceCurrency" : "EUR", "url" : "https:\/\/europe.roostersailing.com\/products\/142423?variant=42398619566236" }, { "@type" : "On Offer","sku": "142998","availability" : "http://schema.org/InStock", "price" : 116.0, "priceCurrency" : "EUR", "url" : "https:\/\/europe.roostersailing.com\/products\/142423?variant=42398619599004" }, { "@type" : "On Offer","sku": "142431","availability" : "http://schema.org/InStock", "price" : 116.0, "priceCurrency" : "EUR", "url" : "https:\/\/europe.roostersailing.com\/products\/142423?variant=41609712631964" }, { "@type" : "On Offer","sku": "142432","availability" : "http://schema.org/InStock", "price" : 116.0, "priceCurrency" : "EUR", "url" : "https:\/\/europe.roostersailing.com\/products\/142423?variant=41609712664732" }, { "@type" : "On Offer","sku": "142433","availability" : "http://schema.org/InStock", "price" : 116.0, "priceCurrency" : "EUR", "url" : "https:\/\/europe.roostersailing.com\/products\/142423?variant=41609712697500" }, { "@type" : "On Offer","sku": "142434","availability" : "http://schema.org/InStock", "price" : 116.0, "priceCurrency" : "EUR", "url" : "https:\/\/europe.roostersailing.com\/products\/142423?variant=41609712730268" }, { "@type" : "On Offer","sku": "142435","availability" : "http://schema.org/InStock", "price" : 116.0, "priceCurrency" : "EUR", "url" : "https:\/\/europe.roostersailing.com\/products\/142423?variant=41609712763036" }, { "@type" : "On Offer","sku": "142436","availability" : "http://schema.org/InStock", "price" : 116.0, "priceCurrency" : "EUR", "url" : "https:\/\/europe.roostersailing.com\/products\/142423?variant=41609712795804" }, { "@type" : "On Offer","sku": "142437","availability" : "http://schema.org/InStock", "price" : 116.0, "priceCurrency" : "EUR", "url" : "https:\/\/europe.roostersailing.com\/products\/142423?variant=41609712828572" }, { "@type" : "On Offer","sku": "142445","availability" : "http://schema.org/InStock", "price" : 116.0, "priceCurrency" : "EUR", "url" : "https:\/\/europe.roostersailing.com\/products\/142423?variant=41609712861340" }, { "@type" : "On Offer","sku": "142446","availability" : "http://schema.org/InStock", "price" : 116.0, "priceCurrency" : "EUR", "url" : "https:\/\/europe.roostersailing.com\/products\/142423?variant=41609712894108" }, { "@type" : "On Offer","sku": "142447","availability" : "http://schema.org/InStock", "price" : 116.0, "priceCurrency" : "EUR", "url" : "https:\/\/europe.roostersailing.com\/products\/142423?variant=41609712926876" }, { "@type" : "On Offer","sku": "142449","availability" : "http://schema.org/InStock", "price" : 116.0, "priceCurrency" : "EUR", "url" : "https:\/\/europe.roostersailing.com\/products\/142423?variant=41609712992412" }, { "@type" : "On Offer","sku": "142450","availability" : "http://schema.org/InStock", "price" : 116.0, "priceCurrency" : "EUR", "url" : "https:\/\/europe.roostersailing.com\/products\/142423?variant=41609713025180" }, { "@type" : "On Offer","sku": "142451","availability" : "http://schema.org/InStock", "price" : 116.0, "priceCurrency" : "EUR", "url" : "https:\/\/europe.roostersailing.com\/products\/142423?variant=41609713057948" } ] }